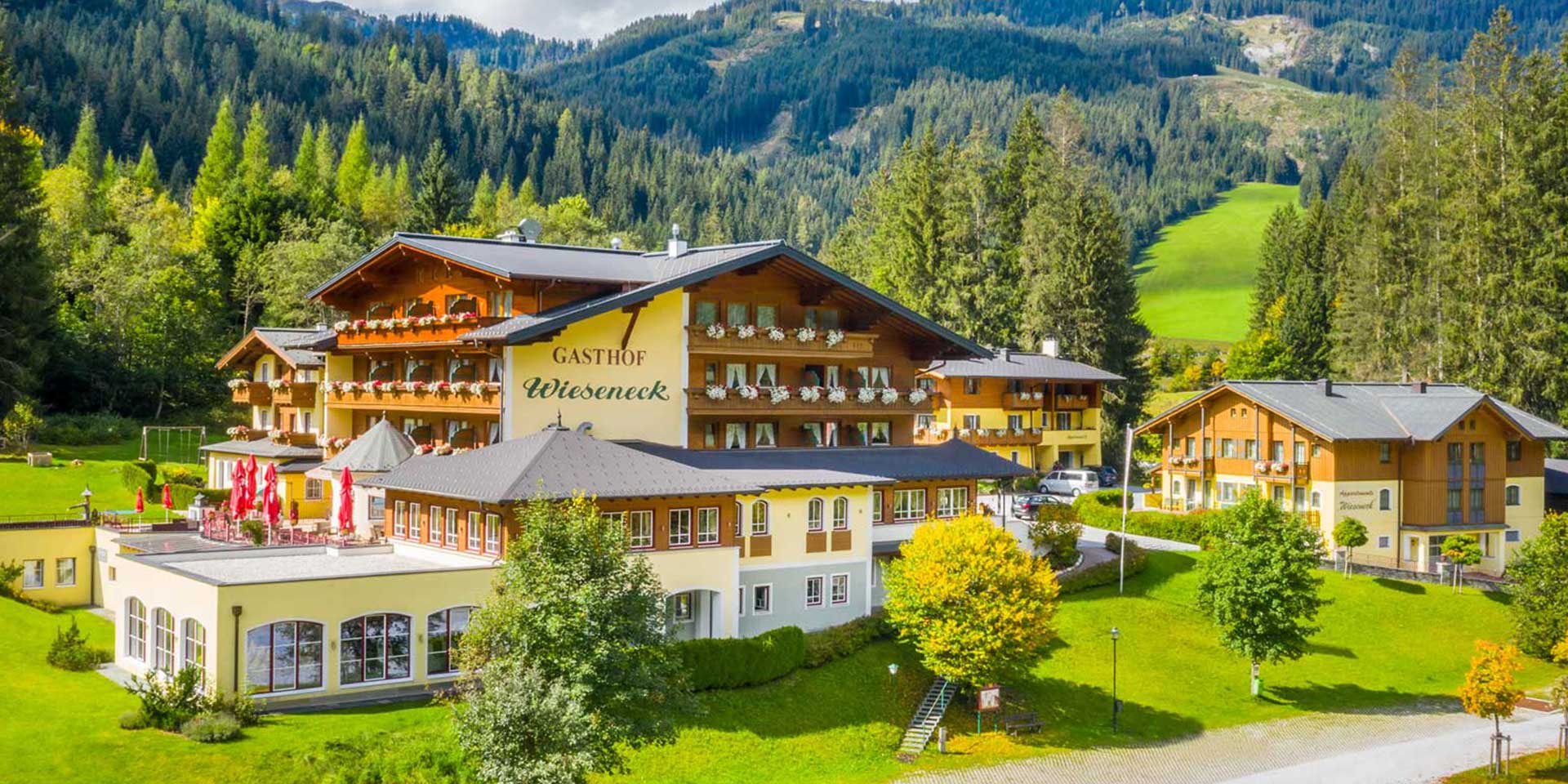 Imprint
Hotel Wieseneck Flachau
Family Koblinger
Hotel Gasthof Wieseneck GmbH
Flachauwinklstraße 218
A-5542 Flachau

Tel.: +43 (0)6457 / 2276
Fax: +43 (0)6457 / 2879
E-Mail: info@wieseneck.at

UID number: ATU 35347308
Place of jurisdiction: St. Johann im Pongau
Managing Director: Norbert Koblinger
Responsible chamber: Chamber of Commerce Salzburg
Professional group: Hotel business & gastronomy
Copyright / Liability
In view of the technical characteristics of the Internet, no guarantee can be given for the authenticity, correctness and completeness of the information provided on the Internet. Nor is any guarantee given for the availability or operation of the subject homepage and its contents.
Any liability for direct, indirect or other damages, regardless of their causes, arising from the use or unavailability of the data and information of this homepage is excluded, to the extent permitted by law.
The content of this homepage is protected by copyright. The information is intended for personal use only. Any other use, in particular storage in databases, reproduction and any form of commercial use, as well as disclosure to third parties – even in part or in revised form – is prohibited without the consent of the respective organization.
Any integration of individual pages of our offer in external frames is to be refrained from.
Concept, design, programming
Doppelpack Werbeagentur
Stadtplatz 1
A-5550 Radstadt
Tel.: +43 (0)6452 20220
Fax: +43 (0)6452 20341
office@doppelpack.com
www.doppelpack.com
Copyrights
The content of this website is protected by copyright. The provision of content and images from this website on other websites is only permitted with the express permission of the editors. The information contained on this website has been prepared to the best of our knowledge and checked for accuracy with great care. Nevertheless, content and factual errors cannot be completely ruled out.
The Hotel Wieseneck assumes no guarantee and liability for the accuracy, timeliness and completeness of the information provided. All information is without guarantee. This also applies to all links to other URLs mentioned on our website.
Image credits
Foto Atelier Wolkersdorfer www.traumbild.at
TVB Flachau